Nicholson 32 Hull simulation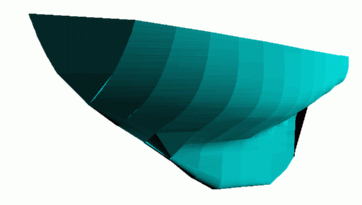 As simulated using "hullform" program from hullform.com (offline, but possibly accessible through the wayback machine, including the software) using ship's lines from C&N drawings.
Disclaimers:
Rudder shape is not properly specified
I don't really know what I'm doing - I am not a naval architect
Downloadable Files:
See Hullform manual (PDF) for glossary or here
Methodology
Ship's lines entered from text on N32 drawings A.284, A.575
These are in the form feet-inches-eighths e.g. 2-3-5 is 2' 3 5/8".
Lines converted to decimal feet (e.g. 4.56') suitable for input to the "hullform" program.
(I could have used a spreadsheet for this, but used a custom Perl script as I find that easier. The text files are tab-separated and can be easily read by spreadsheet programs)
Data entered to "hullform" as "import text file"
Added an extra section (9a) to improve the shape of the rudder. It just be my imperfect understanding of the process that required this.
Entered displacement from specifications, guessed values for LCG and VCG. Ran "balance hull", adjust LCG for spec. waterline
Plot drag curves.
I did not make the recommended fine-tuning of hull shape suggested in the manual. This would have moved away from the actual ship's lines, and in any case requires some care to do properly.
Andrew Daviel, September 2011