2012 in Alastor - whales and bears
August 5
Motor to Irish Bay. Hot, sunny, little wind. Quite a strong current in Georgeson Passage

August 6
Depart at 8am headed to Becher Bay - usual practice is to set off before breakfast, occasionally letting the "crew" sleep in. Colder, cloudy, some wind. Strong current near Race Rocks; double back then go through Race Passage. Sail for a while. Reach Becher Bay fuel dock around 8pm, then anchor for the night.

August 7
Becher Bay to Port San Juan - little wind, overcast, making about 5kt, decide to push on to Cape Beale. Saw a humpback whale breaching, sail into Barkley Sound and anchor off Helby Island in the dark.

August 8
Go ashore on Helby Island. Cut a bit of trail through the undergrowth above the cliff on my property. Move Alastor to the mooring - still there since 2011.

August 9
Dive on mooring for inspection. Re-bar still OK but clamps are loose - lost nuts, thread stripped. Lost a couple of dive weights. Motor across to Bamfield, buy fuel, milk, SCUBA air. Take motorcycle ashore on West side (no road access from mainland - Vancouver Island that is). Go exploring, visit Brady Beach

August 10
Explore a trail across the peninsula.

Buy more groceries, head back to Helby. Cut some more trail. Row out to Bird Island to make a phone call - Helby blocks the line of sight to the cell tower at Ucluelet. Fog moved in later in the day.

August 11
Still foggy in morning. Play around with GPS trying to map lot boundaries - try "differential GPS" with two sets. Not very successful - later I figure that non-survey-grade GPS with WAAS are about as good as they are going to get now that SA is turned off.
Sunny in afternoon. Dive again on mooring. Added shackles to the rebar instead of the original cable clamps. Found the dive weights hiding in seaweed. Windsurfer came loose - painter parted, UV damage probably. Retrieved it OK, replaced painter.

August 12
Sail up the inlet towards Port Alberni. Light wind, rig coaster. See another humpback whale. Head up Uchucklisit Inlet (google satellite). Lots of float homes.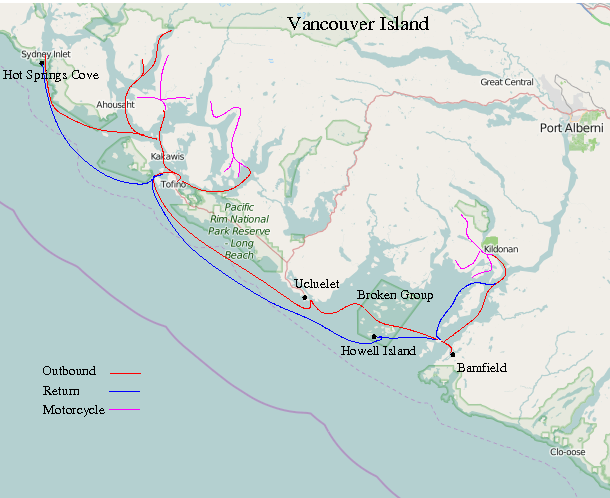 Took bike ashore by Snug Basin, but it turns out it's an Indian reserve and not a public dock, so put bike back and leave after talking to someone who says there's an abandoned logging operation the other side of the inlet. Manage to break a stanchion doing that - I unclip the lifelines to get the bike ashore, but then forget and push on the lines to move the boat and there's too much leverage on the stanchion without the lifeline secured to the pulpit, so the base breaks.
On the other side there's a large barge which had sunk in some 120 feet of water. Later I hear that it had been left with hatches open in bad weather and had flooded. Tie up alongside logs for night.

August 13
Sunny. Take bike ashore using logging camp dock. Explore to south past Fatty Basin. See a couple of black bear cubs.

After lunch, take road to northwest. See another bear. Lose the machete which I'd strapped on the bike - fell off somewhere. Turned back, thwarted by removed culverts. (During active logging, the access roads are built with corrugated-steel culverts where they cross streams. When logging stops, the roads are deactivated and the culverts are torn out, maybe for re-use, or just to prevent them blocking up and diverting the stream and causing erosion. In any case, sometimes the resulting gullies are easy to ride the bike in and out of, and other times they are not so easy. Miles from civilization or any help, I err on the side of caution - if I can't push the bike out by hand if something goes wrong, I give up.)

August 14
Take north fork on bike. See another bear. Find the old powder magazine from the logging operation - probably explosives used in road-building. Back to Alastor, head back to Barkley Sound. See another humpback whale.

Lose black float overboard - a "found item" I use as a "black ball" (i.e. anchored). Toss old man-overboard pole over to mark it, but find that the wind is pushing the ball while the current takes the pole. Great, now I have two things overboard. Drop sails, grab pole but the top comes off. Grab again with boathook. OK, one down. Set Danforth anchor as sea anchor, chase down float on windsurfer (with kayak paddle, not sail), which is being blown towards beach. Head back to Alastor, which is managing to sail across the wind under bare poles rather than downwind towards me. Get back on board before she hits anything, and head out to sea away from the rocks.

Sail to Port Desiree, take bike ashore, head to pub for supper. Poor selection - burgers or nothing. Take the bike up a logging road at sunset - nice view.

August 15
Go into Bamfield for fuel. Try and buy some air, but there's no-one there. Sail to Ucluelet; nice wind most of the way.

Arrive Ucluelet and anchor in basin south of town. Thinking I won't take the bike ashore, I set off on the sailboard with paddle and a credit card (I might fall in; banknotes would get soggy). Turns out to be further to paddle to a road than I thought, and then further to walk to town than I thought, too. Buy paint, food, new wetboots and get everything back to Alastor without actually getting wet.

August 16


Head to Tofino. Just off Ucluelet there's a humpback whale feeding near some rocks - spectacular, but every time I try to take a photo all I capture is a splash.
No wind, or what there is is against me. Very hot - got sunburned on my legs. Arrive Tofino and tie up at government dock next to a seaplane. Take the bike ashore, then find dive air at a shop only a few yards away. Buy some shackles to make a galley restraint for cooking underway. Dry out anchor chain with a view to painting it, then find I'm going aground with the falling tide. Ask seaplane to move, but then find Alastor is stuck. With some winching and help from the pilot and friend, pull free, move to deeper dock, then get bike back aboard. Head off up Tofino Inlet to look for bears on the shore, but no luck. Paint anchor chain in 3 colours - change colour every 30 feet corresponding to 10ft depth at 3:1 rode. Why didn't I think of this before - much easier than looking for tiny marks in the dark. Anchor in Cannery Bay.

August 17
Take bike ashore at Rankin Cove. Explore Rolling Stone Main, Guner Main (these are the names of the logging road mainlines, better-maintained gravel roads from which the roads to the actual cutblocks turn off - where the trees are actually felled).

I found the view from a bridge on Rolling Stone Main breathtaking - somehow, the light on the water, the sky and mountains just came together to create a perfect scene. My photo totally fails to do it justice, and then my camera ran out of film (or rather, the SD card filled up) so I could not take any more pictures.

Head back to Tofino, dock at Olsen Road dock. Take bike ashore and get groceries, beer and petrol in can. Suz, Ekaterina, Jordan and Oreo (dog) arrive about 11pm by car. Stay overnight at the dock, then set off at 8am in the morning (I'm missing a day here in the ship's log).

Hit an unmarked rock in the harbour, then go aground and have to kedge off (my first time here, and it's a bit shallow). Head to Hot Springs Cove; weather has turned a bit cloudy and colder. Typical - I've had a solid week of sunshine and now the others have joined me, the weather's turned and it rains. Arrive about 2pm. Oreo isn't allowed onto the trail to the springs, which is designated a park, so we take turns. Jordan hikes to the springs while Ekaterina tries her new sailboard, and we row Oreo to an island the other side of the cove. Then we have some supper, and everyone else hikes to the hot springs for a dip. The springs are semi-tamed - there's a boardwalk through the forest, which limits erosion by all the tourist feet, and there's a changing hut. But the actual springs are untouched - no concrete steps or handrails, just hot water and rock pools. There's a tradition of visitors to carve their boat name into a plank of the boardwalk, and we find where we'd carved Alastor's name in 2005.

August 18
Set off back to Tofino about 8am. See 3 humpback whales near the shore. Still cloudy.

Tie up at 4th St. dock, take bike ashore and pack up car - Jordan and Ekaterina only have enough time off to make the Hot Springs trip. We all drive to Wickanninish hoping to have a meal at the restaurant, but it's closed. Find the Surf Cafe nearby and buy something there.Suz etc. take car back across the island to get the ferry, and I head back to Tofino on the bike and buy some propane for the stove. Head to Hecate Bay Alastor's exhaust seems very "steamy". I find the water intake blocked with weed - I realize there was a fair amount on the surface earlier which was catching in the sailboard skeg.

August 19
Ashore with bike at Hecate Bay (google satellite) . A bit colder. Saw a black bear and cubs, then another 3 bears near Cypre Mainline.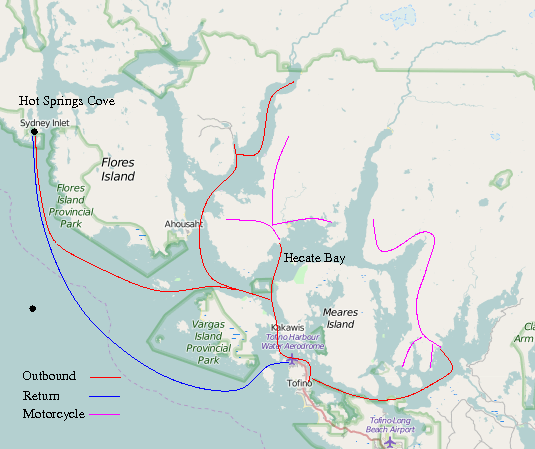 The signs says "wood with respect", which I find a bit ironic as most wood I can see appears to have been smashed to pieces.

August 20
Meet Ben who has a house on a lease at the head of the bay. He says I'm the second boat to anchor there in 2 days, but also the second in 10 years.
Cloudy. Look for docks to go ashore but nothing. Running a bit low on fuel, turn back and head to Tofino. Get some groceries, then anchor for the night.

August 21
Head to Broken Group. Some wind. Set 3 sails on a reach.
I thought it would be fun to try windsurfing on the open ocean, so I set Alastor on the autopilot to steer a course across the wind with bare poles, then set off on the windsurfer. Things were going OK until I tacked to come back, then I dropped the sail and was having trouble going again - my windsurfing skills are only moderate. My original idea was to sail some loops around Alastor, but I gave up and paddled back after rolling up the sail. The whole procedure was too risky - it looked like Alastor was making at least a knot through the water. I had set a float on a long line trailing astern, which I was able to reach with no particular trouble, and I had taken a VHF radio with me, so I did have some contingency plan. Something to try again with some more crew.

Anchor for the night behind Howell Island. Take the windsurfer and paddle to Cree Island looking for "hole" I had seen sailing in. The sea was too confused and bumpy around the end of the island exposed to ocean swell, so I gave up and explored the more sheltered side of the island. I did find a surge channel and a smaller "hole" in the rock. I fell off the board on the way back, in the exposed stretch between the two islands, but just got wet - no real problem. Back at Alastor, I noticed that a line appeared to be caught around the prop - I must have reversed over it anchoring somehow.

August 22
Tried to free the line, without success. In the past, I've had some luck with pulling on the caught line and carefully working the engine between forward and reverse, but not this time. Put on wetsuit, SCUBA gear etc. and go look. No problem - hardly seemed caught at all. Free prop, then go exploring, taking the sailboard as a surface float in case I get tired. Lots of kelp, starfish, anemones, the odd lingcod. The visibility is as usual here a bit murky - looks OK when you are there, but not so good on photos. Found my BC (buoyancy compensator) wasn't working properly - turned out an internal plastic membrane had embrittled and cracked, causing a vent to open.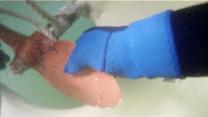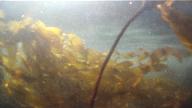 Back aboard, get changed and head towards Helby Island. The wind got up a bit, then really got up. Put a reef in mainsail, though my collection of reefing ties is a bit haphazard. Lose a hat overboard; try to mark it with MOB pole and retrieve it, but by the time I've dropped sail and returned, I lost sight of it. It probably sank; the waves were quite bumpy by this time and it was hard to see something that small. Retrieved the MOB pole and continued to Helby, where I picked up the mooring - lots of barnacles on the line after only a year since I'd laid it.

Anchor as well, to be safe (I'm not 100% confident in the mooring, as it has no weight to speak of, relying only on rebar driven into the seabed). Go ashore, retrieve a rope I'd left. Back aboard, sail to Port Desiree, and anchor. Take the sailboard ashore, standing with a long paddle. This seemed to impress the natives for some reason. The board is not really wide enough to use like this, it's an older sailboard not a new paddleboard designed for standing. Go have a shower at the campsite next to the harbour.

August 23
Head to Port Renfrew. Wind died but still lots of swell around Cape Beale. Tied up at the dock and took the bike ashore. Some years ago I'd seen an unusual suspension bridge here - logs laid directly across suspension cables - which I tried to find, without success, up a couple of logging roads. Had supper at a cafe in the harbour.

August 24
Woken up by the fishing fleet leaving at dawn. Head to Sooke, no wind. See lots of killer whales on the way, with various whale-watching boats out of Victoria in pursuit. They are supposed to stay about 200m away, I think (everyone is), but the commercial boats appear relentless, trailing the whales in shifts and relaying sightings by radio. There's only a few hundred animals in total, so they are a moderately endangered species. There's a lot of local interest, and most of the whales have been individually identified by their markings and often given names by researchers. I'm a bit ambivalent about the tour boats - they must annoy the whales, but if people don't see them they won't care about the marine environment.

Amuse myself by making some new reef ties from synthetic rope. I decided to make eye splices so I could feed the end through the eye then snug it down with a half-hitch, instead of the traditional reef knot. This was some rope that my daughter had bought to tie luggage to a car roof - a woven outer sheath over a non-woven fabric core. I used a splice method from an old Marlow multiplait booklet; seemed to work OK.

Skip Sooke, head to Victoria, tie up at government dock and go to sleep.

August 25
Take bike ashore, buy some more LED bulbs for the cabin at Capital Iron, pick up Petranella from Swartz Bay ferry terminal (about 30km north of Victoria), return to dock and depart about 12:40. Some wind around Discovery Island. Motor and sail to Bedwell Harbour. The autopilot has started to act up.

August 26
Head back to Ladner (Captain's Cove marina). No wind to speak of. Take autopilot apart. This is supposed to be a marine-quality device but the electric motor is clearly mild steel and has rusted substantially to the point that I can't disassemble it without it disintegrating. Try to clean rust off and re-paint as well as I can. Hot and sunny again.

Arrive back at Ladner in the evening as usual, pack up etc.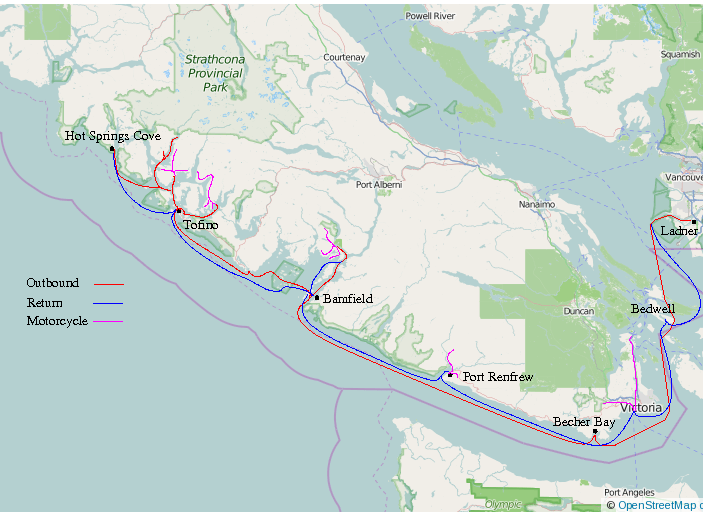 Andrew Daviel, 2015
---
Alastor's Homepage