2011 in Alastor - proofs of principle
August 4
Set off with Ekaterina from Captain's Cove. Took Canoe Pass (without going aground) to Georgia Strait and arrived at Winter Cove on Saturna about 10pm.

August 5
Took the motorcycle ashore, rode to a local winery for lunch. (Comfortably further than walking distance, and over a very steep hill besides). Motored to Sidney Spit in the afternoon.

August 6
Dead calm. Motored to Victoria. Took the motorcycle ashore, and Ekaterina rented a scooter for fun. Rode to Prospect Lake, filled Alastor's propane tank at a gas station.

August 7
Visited Munro's bookstore, as usual in Victoria. Set off to Becher Bay, bought some fuel. Spend a slightly noisy night with a bit of wind.

August 8
Sailed and motored to Port Renfrew, went ashore for supper at a pub.

August 9
Calm. Motored to Bamfield. Looked at Nitinat entrance on the way but chickened out - a bar across the entrance requires "local knowledge" to navigate and it's totally exposed to the Pacific, so a mistake in the swell could dump you hard on the bottom. Anchored in Port Desiree as usual.

August 10
Took the motorcycle ashore, visited the Marine Research Station at Bamfield. Then rode Ekaterina to Port Alberni to catch the bus at 14:30. The road is gravel, and was very dusty with some slippery sections.
Rode some logging roads (Thistle Mine Road) on the way back to Bamfield

August 11
Put the bike back aboard, motor to West side of Bamfield (there is no road access), fuelled boat and bike. Rented a SCUBA air tank from Barkley Sound Adventures (mine needed a hydrostatic test). Sailed to Helby Island, anchored in bay.

I have some property on the island - no buildings, just land. I occasionally think about building a small cabin. My lot has a very small bit of flat land near the shore, but it's not really suitable. There's also a small network of gravel roads around the island, so in theory road access from up the hill. I wanted to get the motorcycle ashore to prove I could do it (this is before restoring the catamaran featured in other accounts). There is no dock, and the severe winter weather apparently destroys any that are built. The foreshore on my property has a rocky spit with some moderately deep water, where I figured with care I could moor the boat alongside.

Using a 120V hammer drill with carbide-tipped bits, a 12V battery and an inverter, I drilled holes in the rock for some eyebolts and secured them with epoxy. Now I have somewhere to tie up a dinghy.
August 12
I also wanted to make a mooring for Alastor adjacent to my property, without spending a lot of money on it. I had had the idea to secure it to the seabed with steel posts, rather than with a heavy weight. I later found that this technique is used to secure moorings in ecologically sensitive areas - install the mooring by hand (maybe with a rock drill powered from the surface), instead of dropping it from a boat and hoping it doesn't land on something important. So my mooring consists of two pieces of steel rebar (concrete reinforcing rod), driven into the seabed, linked with a short piece of chain and with a nylon line from a centre shackle to a float. (Which incidentally was flotsam I had previously salvaged - a Japanese fishing float.) I used a piece of steel pipe with lead weights attached to drive the rebar into the seabed. That worked tolerably well, though I kept floating away from the bottom until I weighted myself down with a small anchor - usually when SCUBA diving the idea is to achieve neutral buoyancy, so I didn't have enough personal weight.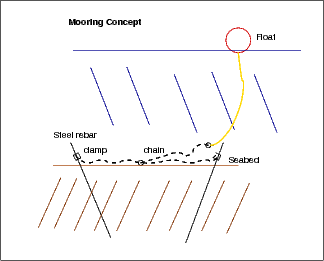 To be able to secure Alastor alongside the rock, I needed some kind of "dock" - the rock itself was too uneven to allow the boat to come alongside without damage. So I found a couple of driftwood logs and secured them to eyebolts set into the rock. Then I brought Alastor alongside at high tide, with a stern line to the mooring to be able to haul her out again without the usual "going astern" steering issues.
The east side of Helby is not exposed to the full force of Pacific rollers, but there's a fair reach up Alberni Inlet and so a bit of swell even on a fairly calm day. This made operations a bit fraught, and explains whey there are no pictures - I didn't think to set up a camera on a tripod with a timer, and I didn't want Alastor bumping unnecessarily while I messed around taking photographs.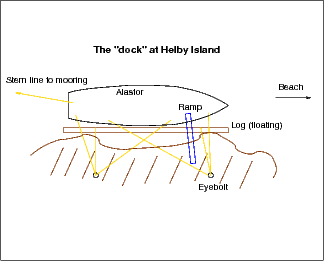 The whole purpose of the exercise was to get the motorcycle ashore. So I had to tie up at high tide, get the bike onto the rock on the metal ramp, then take Alastor to deeper water, wait for low tide, and ride the bike ashore, since the region between the rock and the island proper was below high water. Also, the rock was too steep to easily ride the bike up and down - somewhat wet and slippery with no room to manoeuvre, with an unforgiving surface, beyond my skill level. So I had found another piece of flotsam - a ramp made of driftwood - which I had repaired and fastened in place. I negotiated all these difficulties, and finally got the bike ashore, though I did drop it and break a brake lever on the way. Helby has some interesting abandoned cars reclaimed by the forest, and some impressive trees. This one had fallen across the road, and must be about 8 feet across.

August 15
The bike annoyingly in the modern fashion has no kickstart, and is entirely dependant on electric start - unless one can bump-start it down a road. I drained the battery with lots of short sections on the island, stopping to check the terrain, and was unable to restart it. Fortunately, at that point I was able to push it aboard, so I finally got the bike back, reversing the procedure with riding the bike up the wooden ramp at low tide, waiting for high tide, bringing Alastor alongside and loading the bike before returning to the mooring.

Never again! The whole operation was just too tiring, time-consuming and risky to repeat.

A short trip back to Bamfield in Alastor - buy some groceries, and more air for the SCUBA tank. I hadn't quite finished working on the underwater mooring, so I went back down. I managed to lose my small anchor and the "pile driver" overboard when the line they were attached to worked loose, and spend about 20 minutes underwater in limited visibility trying to find them - and using up diving air. Finally finished, more-or-less, just as the air ran out. It was only about 30 feet deep so I was able to get a breath at the surface and dive down one more time to tighten the clamps, but I was getting pretty tired and gave up, hoping it would be OK.

August 17
Set off for home. Good wind in the Pacific past Cape Beale - Alastor was making about 7 knots on a reach. Normally I stop overnight at Port Renfrew, but as I was making good time I decided to keep on to Becher Bay, Unfortunately the wind died so I motored the rest of the way, arriving a bit after midnight.

August 18
Set off to Victoria. Calm, even around Race Rocks. Fuel up in Victoria Harbour, then moor and take the bike ashore. I had noticed the steaming light failed the day before, but didn't have a spare, and after making a soldered repair, managed to step on it. So I went in search of a marine store, which I located although it was closed.

August 19
Bought various bulbs, new LED festoons for the cabin, more propane, and rode to Langford to get a new brake lever for the motorcycle. Then back aboard I managed to step on a pack of new bulbs when wash from a passing boat caused then to fall to the floor (obviously a bad year for stepping on things). Sail to Bedwell Harbour.

August 20
Sail to Swartz Bay (the car ferry terminal) and anchor, then take the bike ashore again and ride back into Victoria to buy more bulbs to replace the ones I'd broken, and better (brighter) LED festoons. Ride back to Swartz Bay, ascend the mast and fit the new steaming light. Head to Ladner via Active Pass and then Canoe Pass - Canoe Pass is a shorter route and the current is weaker but it's quite shallow, shifting sand, and has to be taken on a rising tide in case of the inevitable groundings. Including this time. Finally reach Captains Cove marina about 22:00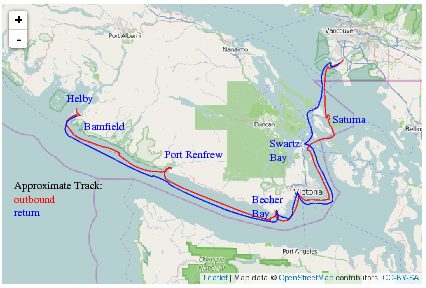 Andrew Daviel, 2015
---
Alastor's Homepage