Summer 2005 - the year everything went wrong
Well, not quite everything...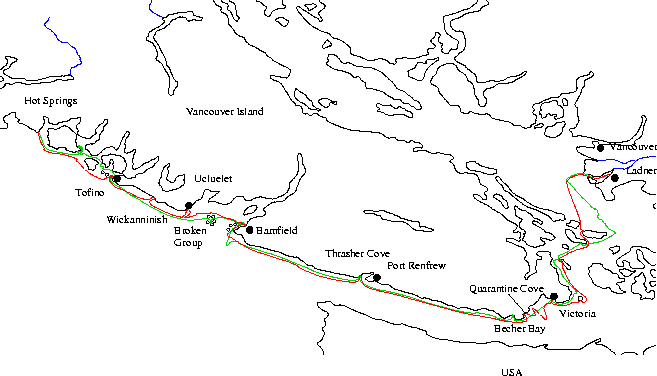 Track in: KMZ (Google Earth), GPX (GPS Exchange file)
Pre-Vacation
Alastor's bottom had got blisters again (after previous treatment in 1991) so I had intended to sand-blast the hull and dry it out for a while before refinishing. However, the marina policy had changed and they didn't allow sandblasting but did allow sodablasting. I had to get a contractor instead of renting equipment, and the treatment is less aggressive and will not remove epoxy in a reasonable time or open blisters. However, it will remove antifouling, which otherwise rapidly blocks sanding discs and grinders. I stripped some loose paint with a scraper before soda-blasting, and then used an angle grinder and sanding disc to remove all of the previous Interprotect (from 1991) and most of the earlier epoxy layer (1983) and blister filler from 1991. I then made a plastic sheet tent around the waterline and set a dehumidifier going inside. As it turned out, I had to pay a substantial yard fee to do this in the summer (in 1991 it was on gravel and there was no fee beyond the normal in-water cost), but it's hard to dry things in the winter.

I then applied epoxy over exposed glassfibre and then Interprotect 2000 (5 coats) and antifouling. I made some effort to sand and paint the underside of the keel by jacking the boat up with a combination of the cradle jacks and a 6-ton bottle jack (which would not fit underneath, so various bits of steel were used as levers). It might have been better to use a couple of 10-ton jacks and have the boat lifted to allow them underneath properly; as it was the boat moved sideways in the cradle and had to be moved back.

The zinc anode had dissolved away somewhat; more seriously, one of the studs securing it had dissolved entirely and, since the studs were not connected electrically inside the hull, the zinc was no longer protecting the propeller shaft but only the prop tube. After some investigation, I decided to cast a new zinc complete with aluminium bar. The zinc is milled down so that the nuts bear on the aluminium; this should not dissolve so fast so that electrical contact is still made. I made a new stud, and joined the studs with copper wire inside the hull. After some discussion, I decided not to get a magnesium anode for fresh water use (at the marina). Some sources say that zinc forms a protective layer in fresh water which must be cleaned off before moving to salt water.
Underway
Finally finished loading at 3pm on August 4th. Fuelled up at marina dock then motored to Winter Cove - calm, sunny, warm. Weather forecast is for gales in Juan Da Fuca ("gale" seems to be local dialect for "fresh breeze; enough wind to move the boat...") Noticed that the propane seems to be leaking, according to the pressure gauge - line is losing pressure with the stove turned off, about 10% of the rate of 1 burner. Dab soapy water on pipe joins but can't find anything. Anchor in the dark in about 20ft.

August 5th. Go ashore for a walk. Find several small wasp's nests - 2 in sail, 2 on radar reflector, one underneath cockpit seat, and dispose of most. Proceed to Sidney Spit; see some porpoises.

August 6th. Leave 2 children ashore and take Alastor around the spit to pump the toilet tank. Drag the anchor a bit so decide to return to moorage on the sheltered side. A baby seal comes ashore, which we don't handle as per various marine mammal guidelines. Take a photo which unfortunately fails to come out; a pity, as the seal was rather cute. Hope it survives.

August 7th. Set off to Victoria; no wind. Go ashore on Discovery Island marine park at lunchtime; try some windsurfing. Mel is pushed ashore but is rescued by Suz in the dinghy. Set off again after lunch, motoring against the current which is quite strong. Try to understand tidal atlas using tides given in GPS. GPS display is a bit confusing not having the manual aboard. Decide later that the GPS software has a bug - it is showing an incorrect "local time" axis, but the "station time" is correct. We were getting nowhere against the current trying to motorsail west from the south side of the island, and I was just about to give up and go around the other side when the current slacked off and the GPS said we were moving again. Some wind; sail to Victoria and tie up on the wharf downtown opposite the Empress Hotel - about $40/night.

August 8th. Find that the leak in the propane system is coming from a crack in the solenoid valve body, crack seems to be along some small corrosion pits in the anodised aluminium. Order a new one from the "Bosuns Locker".
August 9th. Visit "Bug Zoo" with Mel; get to hold a large tarantula and scorpion. Apparently the smaller ones are more venomous, and scorpions glow in ultraviolet... Pick up new gas solenoid; paint with epoxy and fit.
Later, I write to Blue Sea Systems (address from the new packaging...) and tell them about the failure. They send me a new one (thanks!) so now I have a spare.

August 10th. Try to set off but the engine won't start. Find that the starter motor is loose. Fix that, then the starter solenoid fails. Borrow yellow pages from the gift shop, locate a new valve and cycle off to get it. Fit new solenoid; engine starts, hooray. Suz and Pet take bus and ferry back home; set off at last, buy some petrol.

Finally, some wind. Tack towards Race Rocks; wind rising but still warm and sunny. Full main and genoa about half roller furled. Alastor going nicely but then the genoa tears about 2/3 the way up. Furl the genoa. Decide to reef main with reef points but I've never done this before. Head into wind and lower sail till reef points near boom. Looks too difficult to tie down clew with sail flapping strongly so tie down leech intending to work along the boom setting ties at reef points. Get soaked with spray, and it's still too hard to deal with clew. Try to roller-reef but the gear's seized up and won't turn; afraid I'll break it if I try too hard. Decide to head for shelter in Quarantine Cove, but on that heading the sail's pulling and I've left a couple of ties in, so the sail tears at the second reef point. A bit of spray on he coachroof ends up on the stove as the drain hole is blocked and it comes around he hatch instead. Make Quarantine Cove safely and have supper; start to repair genoa with needle and thread.

August 11th. Calm. Decide to proceed; reef main with points which are all above the tear. A bit foggy near Becher Bay. Get ship' bucket - 25-year reliable veteran plastic - stuck behind the main track and it splits when I pull too hard on the rope. Repair with cordless drill and whipping twine. Motor to Port San Juan and anchor in Thrasher Cove - start point for West Coast Trail. Have supper then go ashore for exercise - climbing ladders. Return in dark with help of small LED flashlight. There's now a "tsunami refuge" notice about 150 feet up.
The autopilot remote control is not working so well, maybe after I washed down the cockpit and got it wet. It's supposed to be splashproof but I have fitted inline DIN connectors which aren't. (The inline connectors pull apart under strain, which is preferable to the cable pulling out of the original connector when the mainsheet catches it)
August 12th. Motor to Bamfield. Clean autopilot connectors but the remote still won't work properly; use local controls instead. Fuel runs dry off Cape Beale; put in more from jerrycan. GSM cellphone picks up a good signal from Mount Ozzard (near Ucluelet). Old analog phone would also get a signal, but I wasn't sure about GSM limit. However, in Bamfield there are islands in the way so the phone won't work. Notice some water in the bilges; pump it out. Anchor in Port Desiree.
August 13th. Take autopilot apart, dry out inside. No better; maybe worse.
Fill up with fuel at Bamfield, move to east government dock, go ashore for gorceries, move to west government dock, buy some SCUBA air. Guy says my tank is overdue for pressure test and should never have had its last visual inspection, but as it's in good condition and looks new they probably didn't check the date stamp. He sells me some air anyway.
Can't start the engine. After cleaning carburettor realize that they sold me diesel, even though I asked for gas. The fuel dock uses the same kind of commercial pump for diesel as the Steveston one does for petrol, so I hadn't immediately realized it was the "wrong hose". The fuel dock is just across the inlet from the government dock, and it's pretty calm with no current, so I row across in the dinghy towing Alastor. It's actually not that hard, once she's moving - not much slower than rowing an inflatable full of people. We locate some spare jerrycans and I spend some ime pumping the tank out with a plastic hand pump. Drain the fuel filter, rinse the tank out with a bit of petrol, get a fill of the proper fuel just after closing time, and eventually the engine starts. I figure I had had just enough petrol in the fuel filter to get to the two docks, and reckon I'm lucky that I hadn't headed out to sea instead. Back to Port Desiree for supper and watching Lord of the Rings on the portable DVD player.
August 14th. Motor across to Helby Island. Everything smells of diesel - the cockpit, the genoa which was in the cabin and got a splash, the cabin sole... Go ashore on Helby wit hthe GPS and try to find some survey points - I want to check property boundaries, which are basically imaginary lines through dense brush and trees. Saw a snake (not sure what kind); found a snakeskin which I kept to show the kids.
Dug out old Autohelm. The comppass is broken but the motor still works. Wired the motor to a switch box so I can use it to set constant rudder angle; better than nothing.
Augist 15th. House battery very low so started engine on starter battery, then switched back to charge house battery. Engine quit. Changed the points; probably the low voltage was the real problem but dirty points didn't help. Blocked the toilet trying to flush bits of paper towel. Unblock with screwdriver; actually the toilet not the pump, for a change. Saw a grey whale blowing in the distance.
I had originally intended to head to Tofino, but the engine sounded a bit rough off Ucluelet so I decided to put in there. Finally it quit just offshore but there was a bit of wind and the tide was coming in, so we sailed slowly in through Alpha Passage and then to Spring Cove. Mel might be infuriating sometimes, arguing over exactly how many dirty dishes are her share of he washing up, but her quiet confidence as we pass between two wave-swept reefs with no auxiliary power is pleasant. Or is she merely oblivious ?
Investigate engine. Try and spot source of water leak with mini TV camera but can't get lighting and focus to cooperate. Finally take up cockpit access cover and it's obvious - plug in cooling water journal has corroded through and is now leaking substantially - so cylinder head is running hot, and waer is spraying over HT lead and coil. Also over starter solenoid - perhaps there was a connection. There's always a bit of water from the edge of the hatch when it's opened, so with the engine stopped it hadn't been obvious. Repair hole in plug with steel sheet from food tin and epoxy putty. Clean and dry off HT leads and electrics.
August 16th. Cockpit access hatch is stiff to unfasten so decide to sort it out. Wash out screw holes in hatch and deck with water and blow dry. Screws still stiff. Cut grooves in one screw kind of like a tap and use it to clean out all holes. Realise there is in fact a metal tapped insert in each hole - I had thought just the fibreglass was tapped. Finally the threads are clean enough to do up easily with a cordless drill, as opposed to applying judicious torque with a carpenter's brace.
Engine starts OK. Motor to Tofino past Pacific Rim National Park. Passing Wickanninish beach about lunchtime, I can't resist anchoring and going ashore for lunch at the Wickanninish Restaurant. This is one of my favourite eating places - a wood-built structure perched on the rocks with good food and a fantastic view of the Pacific Ocean, wave-swept rocks and the expanse of Long Beach. Anchoring is a bit tricky but I finally pick a spot in about 15 feet with a bit of shelter provided by the outlying reefs, and go ashore in the inflatable, angling south a bit to where the breakers are a bit smaller. We give our names for a table and I mention to the park guides in the adjoining visitor centre that we're not in trouble, we've just dropped in for lunch. We get a table with a view where we can keep an eye on Alastor, and have a pleasant meal - fresh salmon and salad, as I recall. Partway through, a waiter arrives with a message from the park warden - something about moving 100 metres but the guides in the centre don't know anything about it. After finishing our meal, I use their phone to talk to the warden who is on a beach somewhere. It seems there's a regulation that powered craft aren't supposed to launch from the beach or come with 500 metres of it. I checked later; I'm not sure how I was supposed to know this as it's not marked on the charts, listed in Notices to Mariners or in the Sailing Directions. I think sailors arriving from offshore are rather unusual; the regulation is supposed to stop people buzzing the beaches in personal watercraft and from disturbing wildlife on some of the islands. It seems if we had arrived under sail it would have been OK.
After sorting this out, we set off for Tofino, anchoring in Duffin Bay.
August 17th. Go ashore for groceries and ice; turns out to be a motel beach access path. No-one to ask. Worked on sail or autopilot I think; logged on to computer at work to read email, via cellphone and laptop. (See mobile blog for fun and games getting this to work).
August 18th. Decide to paint anchor chain with rust paint - having swapped it end-to-end a couple of years ago, the section not in the chain locker is getting a bit rusty. It's a bit damp and overcast, so I rinse the chain in fresh water and try to dry it out on the stove, with moderate success, then spray it with paint. A good opportunity to clean out the limber holes.
Find the top section of the man-overboard pole has gone missing - probably unscrewed itself and dropped overboard. Pick up a section of plastic-covered metal rod from the hardware store for $1 and tie a bit of orange flagging tape to the top - not so elegant as the original, but it works...
Move to a government dock, squeezed in behind the floatplanes. Wait for Suz, EK, pet and Thomas who are driving over. All aboard then back to Duffin Cove to avoid moorage charges. Fog has come in so rely heavily on GPS map display.
August 19th. Fog, no wind, some swell. Thomas is seasick. Heat to Hot Springs Cove around outside of Flores Island; hear the foghorn before we can see the land. GPS maps are great! Anchor in the marine park near Innchanter and head off to the actual hot springs - up about 2km of boardwalk. Hot springs are pretty busy with tourists who have arrived on commercial tour boats (and some by seaplane). Decide to return in the morning before the tourists get there from Tofino.
August 20th. Back to the springs, which are not so busy. They start off really too hot to bathe, then fall as a small waterfall into a series of rough pools, finally draining into the sea. So one can choose the pool that's just the right temperature, or cool off in the sea. The countryside is typical West Coast temperate rainforest, i.e. impenetrable damp undergrowth, trees, fallen logs etc. so the boardwalk makes the walk much easier, apart from protecting the environment - the path would soon turn to a slippery mess without it. It seems traditional for visitng yachtsmen to carve their vessel's name into the planks, so I tote along a cordless drill and router bit - no wood chisel on board - ant attack a plank on the way back.
Not long after we return to Alastor, Shaun comes across from Innchanter and says that the Coast Guard are looking for us. It turns out that Suz's mum had misunderstood when she was returning and had called them. Shaun says I can use his phone (there is no cellphone coverage), and tows me back to Innchanter on the windsurfer, tells me he has to go but feel free to use the phone as much as I want. I talk to the Coast Guard who say they had found Alastor's web pages on the net looking for a description and figured we probably weren't in real trouble. I'm not sure if it's the Nic's seaworthiness or my apparent ability to make running repairs that convinced them. So after leaving a message with Suz's mum I paddle back to Alastor for lunch. We then set off south to Ahousat - apparently on a marine park, but it turns out to have a large drying mudbank and no access. Sheltered and quiet, though.
August 21st. Tie up at Ahousat store for groceries, then motor round to Whitesand Cove (the oher side of the marine park) - a nice sandy beach, but exposed to the ocean. It's calm, though. A notice says there are wolves around so be careful with garbage and wash dishes in sea. We don't see any, of course. Have lunch, do some windsurfing. Wind gets up a little bit so we sail for a while with the coaster. Anchor at Duffin Cove again. Tofino has one of the trickiest approaches I have encountered in a commercial port - narrow channels through drying banks. Well-marked, though, and again the GPS map makes it almost easy
August 22nd. Fuel up and move to government dock. Buy a new deep-cycle house battery to replace the ailing one. Suz has brought an electric sewing machine and heavy-duty inverter, but the dock has power so I don't need it. It's sunny so I spread the sails out on the dock. It turns out I can in fact get a roll of sail into the throat of the machine and sew the seams properly. I had used hand tacks and some spinnaker repair tape initially, then oversewed it with the machine. Suz had brought some heavier adhesive repair tape which I tried to oversew in the same way, but the adhesive kept getting on the needle and stopping the thread looper from working. So I left a section with just tape; I was later told that this should generally be strong enough. One passer-by said he couldn't believe his eyes; was that really a sewing machine on the dock ? Meanwhile, Suz drove the children to Long Beach where they went surfing with a boogie board they had bought.
August 23rd. Continue to work on sails in the morning. Suz drove home with Mel and we set off after lunch in Alastor, ending up at Wouwer Island in the Broken Group where we anchored for the night, surrounded by barking seals on all sides
August 24th. Tried to exit cove at the other end, but too shallow - gently bumped a rock - so goe out the way we came and motor to Turtle Island where we anchor for lunch and go ashore. I harvest a bit of driftwood which I cut up and make a splint for the ensign staff, which had broken off at the rail again. I filed the butt joint down on either side, overlapped the splints with epoxy for a couple of inches, then sanded them flush. I'm sure it would have been better to just replace the entire pole.
After lunch I took the inflatable and SCUBA set out to Thiepval Channel and tried to find the wreck of the Thiepval again. No luck, but the reef was worth the visit, with lots of spiny sea urchins. My BC (buoyancy compensator) inflator valve was stuck, so I had to use the mouth inflator. Not really a problem. More serious was the fact that the depth gauge had also failed, so I had to guess. I generally keep well within no-decompression limits, and above about fifty feet.
I had bought a "solar shower" kit in Victoria, which the teenagers tried out. Basically a black plastic bag with a nozzle on the end that you leave in the sun for a while. Fairly successful, though the nozzle fell overboard and EK had to dive for it. We tried the windsurfer, but the mast fitting broke again. More epoxy. We then motored to Helby Island, as the wind had died.
August 25th. EK and Thomas decided they would circumnavigate the island on foot around the shoreline. Pet went ashore to play on the beach while I wrote some software on the laptop to try and generate GPS coordinates from property plans, to try and figure out where the boundaries are - the middle of the island being dense trackless undergrowth. I then went ashore and got thoroughly lost in the salal, armed with the GPS and a machete. I had earlier located two of the survey marks (lead plugs) on the shore, which let me calculate absolute positions for the remainder of the marks and boundaries. However, the GPS accuracy of about 8 metres is not really good enough to find a couple of inches of iron post in the middle of solid brush.
August 26th. Fresh water ran out; motor to Bamfield to fill up; also for fuel. The guy who gave us diesel by mistake gives the children free chocolate bars. Refilled spare propane tank, had a shower in the campground facility, explored West Bamfield on the boardwalk, bought groceries. The cafe was closed so we went to the pub for supper. However under the terms of their liquor licence the teenagers weren't allowed inside, even just to eat, but the waitress said she felt bad about having to always turn people away from the only eating place in town, so we ordered and she gave us take-out which we ate at a nearby picnic table.
August 27th. Set off to Port Renfrew. Some wind from the SE so we sailed around Cape Beale, but then motored down the coast instead of tacking into it. The wind died later, and there was a bit of fog. We anchored in Thrasher Cove and again went ashore to climb ladders.
August 28th. Foggy in the morning, but cleared later. Juan da Fuca was amazingly calm - usually there's at least some swell, and often a fair bit of wind. Put in to Becher Bay for fuel. It then started raining fairly heavily. I had made a wooden seat so I could sit in the main hatchway under the dodger and see through the glass, and turned on the windscreen wiper. However, with a bit of wind from astern my back was getting damp, and with only the jury-rigged autopilot I had to get up and correct the course every few minutes, so I didn't keep quite as dry as I had hoped. Finally we tied up in Victoria, at the dock on Wharf Street again.
I pick up a brochure for Bbxpress.net from the wharf office; it seems one can now get broadband wireless Internet aboard ship. That would certainly be better than my cellphone connection, which has a maximum bandwidth of about 150k I think, but I don't frequent the resorts enough to justify buying a high-power wireless card.
August 29th. Raining again off and on. EK wanted to rent a motor scooter and visit UVic, but she had only her temporary driving licence and no photo ID. Thomas had ID but no enough experience to take a passenger. So they rented bicycles and I rented a scooter and took Pet as pillion. Around lunchtime it started to pour with rain and we didn't have proper rain gear, so we hid out in a deli and bought sandwiches. Fortunately the rain stopped after a little while so we continued to the university. UVic is full of rabbits, which pleased Pet. EK visited a couple of faculties and picked up some literature, then we returned to the boat. Suz and Mel turned up with Elisa on the bus, and Thomas departed as he had to get home.
Ausust 30th. More rain. Suz departed on the bus about 11am, and I went to the chandlers to pick up some spares - more sail repair tape, rope to replace the temporary main clew reefing line, etc. Mel and Elisa visited the Bug Zoo. Suz had suggested I might have replaced a chip the wrong way round in the autopilot, and sure enough I found I had - the manufacturer had put the socket in the wrong way round, and I had lined up the notch with that instead of with the silkscreen mark. When I corrected it, the autpilot appeared to work again. However, it now seems to have an intermittent problem with the fluxgate compass - it loses the bearing and suddenly says the heading is either zero or 180. I fiddled wit hthe wiring looking for a bad connection, but in vain..
About 12 noon the rain stopped and we set off. No wind to speak of. We headed up towards Sidney Spit, but got the wrong side of an island. the GPS was set for "micro navigation" - keeping clear of dangers - but I hadn't zoomed the little screen out for "macro navigation" because I "knew" where I was ... No harm done; not wrong, just different. When we came to the North side of the "wrong" island the wind came up and we had a good beat across to Sidney Spit, and came up to anchor under sail. With a good breeze, we launched the windsurfer again, but it was too strong for EK. I raced across to the dock and back without bothering to change, and got my trouser legs wet from the spray. Fun, but a bit tiring.
August 31st. Sunny, less wind. Elisa tried windsurfing while Pet went ashore with Mel to play in the sand, while I worked on the autopilot. After a while Elisa is drifting downwind so Mel swims off to rescue her. Meanwhile Pet is getting hungry and starts writing SOS messages in the sand. I row ashore, pick up Pet, drop her aboard Alastor then continue to chase down the windsurfer. I find them hanging on to a lobster pot float, which explains why they hadn't seemed to be moving. The mast joint has come apart again. I swap the dinghy with them and sail the windsurfer back, the mast foot pressing into my foot (fortunately protected by a boot).
I find the GPS map encouraging me to do things I would never dare with just a compass, LORAN, or mapless GPS - such as sailing between covered reefs about fifty feet apart, or navigating narrow passages through shallows. With a good chart (most of the Guf Islands are well mapped) and a WAAS accuracy circle on the GPS, I am quite confident. It's really deskilling coastal navigation. I guess now the preferred backup to GPS is a second GPS receiver, and hope nothing happens to the satellites
We head to Bedwell Harbour, which has been totally refurbished since we were there last, the old store and restaurant being replaced by a fancy looking resort and condominiums up the hill. However, there's a new store which still has a few basics along with the up-market trinkets. EK than wants to roast marshmallows over an open fire, so we row to the marine park only to find a notice prohibiting all fires (campfires seem a traditional thing in Canada, and most campsites have firewood and a fireplace). So we row back after a short walk ashore, and she tries cooking them on the propane stove. They turn out a bit blackened.
While at Bedwell, I idly looked on the GPS to see how low the bridge was above Pender Canal. To my surprise, there was a blank area on the GPS map. On my Garmin GPSMAP76, if I haven't loaded a chart for a particular area, it is shown as crosshatched. This was just plain grey. On my return I sent a flurry of email to Garmin thinking I had found a bug in the software. Eventually, I got an answer from the Canadian Hydrographic Service, who issued the original electronic chart data. On the paper chart CA3477, which is mostly at 1:15000, there is an inset at 1:4000 for Pender Canal. These are issued as two separate electronic charts CA570187 and CA570186. I had not loaded the higher resolution CA570187 into the GPS (because the GPS does not have enough memory to load the entire chart set from the CD-ROM), but I would have expected to see the canal at 1:15000. It turns out, though, that the hole I saw was a consequence of the ENC specification defined by the International Hydrographic Organization - both charts have the same "intended purpuse" (harbour) and thus, according to S-57 Appendix B, "data within the cells cannot overlap". So now I know.
September 1st. Calm, sunny. Head to Georgia Strait around the end of Saturna. I play with the laptop trying to convert NMEA XTE sentences generated by the Garmin GPS into APA understood by the autopilot. It works - but the autopilot compass problem means that the autopilot can't be trusted to steer a straight course, so I abandon the attempt. The autopilot works OK with the Loran C, but the GPS is more accurate and has better routing software, so it can do things like steer a reverse track. What I'd like to do is steer up the Fraser river and avoid all the starboard buoys while I furl sails and generally start packing up, but it will probably take a new autopilot to make that happen.
The children want to go swimming, so we steer up the middle of the traffic separation scheme, out of the way of the big ships, and slow down. With the dinghy let out on a long line, they jump in and swim to the windsurfer, with the dinghy as a long stop. It's not that hot, so I don't bother myself. Finally we arrive back at Ladner about 8pm, finish packing then drive home.
Litany of "Disasters"
Leak in propane solenoid valve
Starter solenoid fails
Tore genoa
Tore mainsail
Autopilot failed
Fuel dock gave us diesel when we asked for gas(oline)
Cooling water leak in engine
Stung by a wasp
Fo'csle window leaked
I fell down the forehatch
Wood glue leaked in toolbag
SCUBA BC valve stuck
SCUBA depth gauge failed
Main hatch cover drains blocked; galley got wet while washing coachroof
Jackstaff broke
Windsurfer mast swivel broke
Gas lighter stopped working
New paperback got wet
Lost pencil for ship's log
Fresh water ran dry
House battery had to be replaced
Lost a bathing suit
Top of man-overboard pole lost overboard
Toilet blocked
Small bucket lost overboard
Large bucket split
Towel fell overboard
Google Satellite Views